2012 Fashion "Fashion" Wealth "Earn" keeps going!

For a small business startup, what business can make money? How can we manage to be unbeaten and undaunted in the competition? The answer is—1. brand background; 2. company strength; 3. policy and support; 4. market development trends. These all determine whether you can make money, and how long you can earn!
From 2000 to 2006, it was the world of business casual wear. Seven wolves and seven brands were profitable. They combine this formal wear and casual wear with two-and three-tier cities, with ages ranging from 30 to 45 years old, at which stage they earn money.
The second wave is the amount of casual wear from 2002 to 2007, which is Mebon, Summa, and Pure. The earliest casual wear in China was Giordano in 1999. Giordano opened a store in Guangzhou in the earliest in 1999. He must be open 24 hours a day because customers are always on the door. Domestic companies also follow suit faster. From the year of 2002 to 2007, they have risen and they have also made money.
The third wave in 2004 has been the rise of action equipment. Through years of development, the rise has been Li Ning, Anta, Xtep, and 361 degrees. Those who do these brands also earn money. What's next? Authoritative experts predict that the trend in the next decade will be fashion trends and fashion trends. Snoopy Fashion Women just caters to this trend and meet all the above requirements!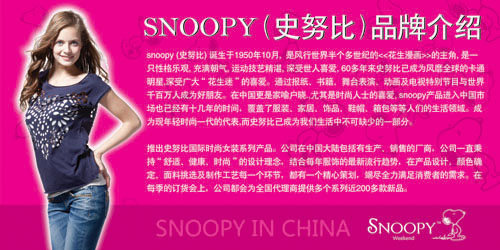 SNOOPY brand introduction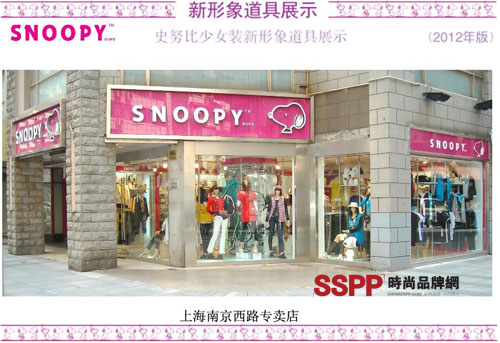 SNOOPY Snoopy Women's Shanghai Nanjing West Road Store (110 sq.m.) Sells 7 Million A Year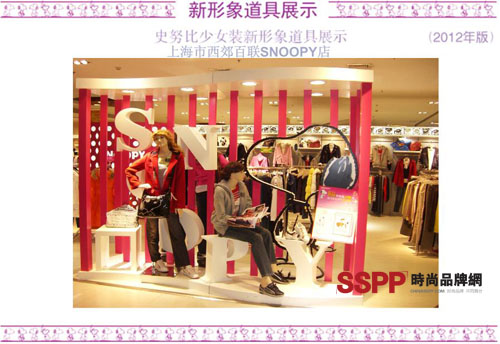 Snoopy Shanghai Bailian Store (60 sq.m.) Sells 3.5 Million A Year
What kind of brand is Snoopy? How does the Chinese market make franchisees really make money and make money for a long time?

Brand introduction Brand background
SNOOPY was born in 1950. It is a cartoon comic image of the U.S. Joint Photographic Association. Now it has become popular all over the world. It was on the cover of the U.S. Weekly magazine in 1952 and was introduced and renamed in 2003 in Mainland China. "Snoopy's Story" makes SNOOPY's image a household name.
In 2001, Shanghai Zhenxin Group successfully obtained the agency of SNOOPY in mainland China, and successfully launched SNOOPY Fashion, SNOOPY Intimate, and SNOOPY Weekend. , gave SNOOPY this global cartoon image in China's new life.

company background

Entrepreneurial period (1990-1995): Established the first Taiwanese-owned garment factory in Handan City, Hebei Province, the famous cotton spinning base in the country, taking root, deepening the regional market, exclusive agency brand, and clear market positioning, setting up wholesale outlets, and entering Department store access.
Growth period (1996-2000): With the rapid development of the nationwide access road, a second garment factory was established in Shanghai, introducing professional technology, developing marketing networks, actively exploring the market, and establishing a branch management system.
During the transitional period (2001-2004): Successful cooperation with SNOOPY, one of the world's top 500 companies, signed China's authorization for SNOOPY girl and girl's underwear, and established the children's wear brand "Bodi Bear". Developed a direct marketing network, set up an instant consultancy network, established a direct-operated store and a computer network system, and built a store business model.
Consolidation period (2005-2006): The company will innovate, consolidate the market innovation brand, strengthen the supply chain strategic alliance, continue to open stores, and expand market share.
Expansion period (from 2007): Build factories in Shanghai, Jiangsu, Zhejiang and other places in China to extend the product line, introduce the French famous media brand MARIE FRANCY, and SNOOPY girl underwear; business innovation, The essence of management; production and marketing one-stop results sharing.

The company's success
Shanghai Zhenxin Group has developed more than 1200 stores so far, including children's wear, girls' wear, and girl's underwear. Among them, there are more than 100 direct-operated stores. The company has purchased four sites in Shanghai, covering hotels, real estate and other industries in Shanghai. There are 2 garment factories with an annual output of 3 million pieces.
Previous page 1 23 Next page
Derived from the relentless pursuit of quality, and relentless focus on the details, social friends from all walks of life in the long process of development, trust and support. Integrity and pragmatic business style is more appreciated by businessmen around the country, and establish a good reputation in the industry.

Factory Supply Dyed Colors Mink Fur Pelt plate Skin Original Dalian Female/Male AF-7
Factory supply
Raw animalfur skin
Mink Skin,Mink Material Skin,Mink Fur Skin,Fluffy Mink Skin
Ningxia Ning Yuan Xiang Industry & Trade Co.,Ltd. , https://www.nyxfur.com