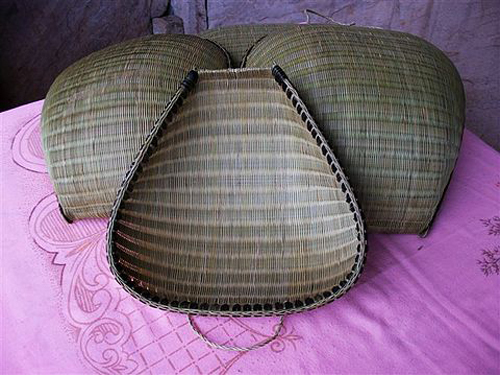 Anyue bamboo weaving art has always been famous, whether it is craft bamboo, or practical bamboo, are called first class. In mid-December, the reporter went to interview with Gaosheng Town, Anyue County, a well-known bamboo production site.

The conditions for the development of the bamboo weaving industry in Gaosheng Township are blessed with unique conditions. The forest coverage rate of the township is about 70%, which reserves an extremely rich source of raw materials for industrial development. Hard-working folks can collect bamboo in front of the house and create various kinds of life utensils: such as bamboo mats, baskets, and baskets.

"Anyue, a saying that Li Jia's reciting, high-rising er, Yongqing bamboo circulates. When referring to Anyue bamboo we have to raise the embarrassment of rising hometown, and when we say that we rely on 筲箕 to become rich, we must Go to Dengpo Village." The head of Gaosheng Township Party Committee said cheerfully: "There are 25,168 people in Gaosheng Township, of which the agricultural population is 24,340, and there are 1471.3 hectares of cultivated land. For a long time, due to the information blockage, the township industry has mainly used agriculture. As for the article on how to do a good job for peasants to increase their income, Gao Shengxiang Party Committee and the government did not think of ways....."

"Last year, Gaosheng Township became the highest income town in bamboo industry in Ziyang District. Do not underestimate our products. Many foreign merchants and units have pointed out that they must purchase high-rising pickaxe. Many collectors from Hong Kong, Macao, and Taiwan have visited it many times. The inspection gave a high evaluation of our errands..." The person in charge gave instructions on the side, and the proud look overflowed.

The reporter saw in Lampang Village Group 2 that many merchants were glad to have a variety of bamboo products. The original road across the road and then walking 100 meters ahead is the bamboo weaving market. Every time we get a market, there are a lot of merchants going to buy bamboo products at 3 or 4 in the morning. If you are too late, you have to wait a few days before you can buy the desired goods.

The home of Tong Shunguo, chairman of the bamboo weaving association, was on the roadside. He enthusiastically took the reporters home to visit. In a house of more than 20 square meters, fifteen fine beggars are arranged in an orderly manner. "Our family is a small one. In addition to spending a month at home, we can increase our income by more than a thousand yuan. We have individuals here. His recollections are collected by collectors from the United States and Germany. His goods Very pretty, never to get the market to sell, all others to his home to order."

Tong Shunguo said that the man is Gao Sheng Town's "Star" Wang Deying. Wang Deying was 57 years old this year. His reputation is known far and near. It can be said to be a beautiful and practical combination. It is the first in the township. The CCTV Taipei 30-degree program group once made a special trip to An Yue to interview him.

Walking along the highway, the reporter came to his home in less than ten minutes.

At this time, Wang Deying was busy outside the house, breaking the bamboo and planning to come in handily. I saw him use a knife to divide the bamboo into bamboo sticks about 1, 2 mm in diameter and 1.5 meters long. After the stroke, he repeatedly rubbed his hands on the bamboo sticks, and then he did not even have a little bit of bamboo. The bamboo raft used by Lao Wang had to undergo several "polishing" treatments, which were not only fine, but also smooth. When you break the bamboo, you must also grasp the opportunity to avoid the bamboo as much as possible.

Speaking of the history of weaving craftsmanship, old Wang Lima was excited. It turned out that his father was a codified expert. When he was young, at a trade fair, a wide array of bamboo utensils opened his eyes wide. After returning home, he decided to start taking over his father's clothes and carry forward this handicraft. The veteran Wang who had been struggling to make improvements in his father's craftsmanship developed fine details and divided them into two types, square and round. In order to both look good and practical, he divided the finesse into three sets, from small to large. "This set of craftsmanship last year sold 120 yuan/set—130 yuan/set, and this year someone paid a deposit of 200 yuan/set." As the popularity rises, Wang De's craftsmanship is in short supply, and the old couple's day Can only do one set, often too busy to come. As he has done for 30 years, he can only do three sets of work over two days.

Wang Deying did not think that one set of selling was more than 100 yuan more expensive. He said that working on the construction site for at least one day will earn at least 100 yuan, while the preparation of a set of skeletons will take at least two days, so this should be worth the money. He was gratified that he had a reputation for not having to go out of his way to sell, sitting in front of his house for a month and he would be able to earn 3,000 to 4,000 yuan. He said: "When I go out to work, I don't have to compete with a young man. I just have to work and I don't get much money now. As long as you sell well, I will be able to live seven or eight years old without problems."

Similar to Wang Deying's "new farmers" village is still quite a few. It is understood that in recent years, many young people have gone out to work, and only the elderly and children are at home. The best-selling bamboo products made the villagers taste the sweetness. Many young people who work outside have sprouted the idea of ​​returning home to start a business. The traditional craftsmanship has been revitalized, it has reached the market, and there are plenty of job opportunities for rural left-behind people at home. "The people can also do some crafts while they are in their free time. At least one tens of dollars can be earned each day." said the person in charge. Last year, 2,200 bamboo knitting practitioners in the township made a total income of more than 12 million yuan, and the per capita income was about 6,000 yuan.
Viscose 100 Fabric,100 Viscose Fabric,100 Percent Viscose,100 Percent Viscose Fabric
Shaoxing Yuantiao Imp&Exp.,Ltd. , https://www.jeesun-fabric.com